First off let me express my gratitude to everyone that has supported our mission and joined our movement of "Healing the Hero". We have had so much success that it's hard to put into words. We now have organizations around the country organizing fund raisers on our behalf. That is huge! With your support we have connected more than 450 veterans and their families with resources to turn their Post Traumatic Stress into Post Traumatic Strength.
A new milestone for us was the inclusion of the 22Zero coaching program, to give the tool of healing into the hands of the veterans. The system is reluctant to believe or support such rapid healing that the Visual/Kinetic Dissociation, rooted in Neuro Linguistic Programming brings. We are not only seeing it firsthand we are facilitating it.
I want to share the story of Karen with you. Karen is a 33-year-old young woman from Tennessee. A friend reached out to me and asked if I could connect Karen with an treatment. Tennessee will not have a licensed counselor until February 2020 in Johnson City, TN. It was two weeks before Christmas and he told me she was in a bad place. Coincidentally I was visiting Tennessee and was able to directly connect with her myself. The following day she drove to my Uncle's home. I could tell where she was and how bad off, she was. She was very nervous and scared. Understandably! I told her it was apparent as she thought about the event, she was a high 10 Type 1, PTS, which is as bad as it can get. We built rapport after I shared my story with her. Then without even knowing what she was working on we started the treatment and she didn't have to tell me. One hour later I watched the color come back into her face and saw her smile for the first time. You see, Karen was brutally raped and tortured for hours when she was 18. She was basically left for dead. Karen later married a police officer and struggled for the next 15 years, but the marriage didn't survive her PTS.
Karen went home that night and slept like she hadn't slept in the last 15 years. No night terrors, night sweats or changing beds after an hour and a half asleep because her sheets were soaked with sweat. She typically kept herself busy by cleaning her house and taking care of her dogs. She made a profound statement after we finished the session, "You know I thought the best years were behind me, but I now feel they are in front of me." We encouraged Karen set up her own nonprofit to bring healing to domestic violence survivors and victims in her area. She is going to learn Tactical Resiliency Program in a future training. Her nonprofit is in the works.
I checked back with Karen to do any follow up work necessary, she said her life is forever changed as a result of this treatment. Her fight or flight switch is now turned off. Her negative emotions are all gone. In just one hour her complex PTS was gone. She no longer drinks to sleep, and her physical pain associated
with her trauma is also gone. She is currently back with her husband and restoring their relationship and marriage. Folks, all I can say is this treatment for PTS is revolutionary. It is also what they call a disruptor. We are training veterans to do this because of the difficulty getting the licensed counselors to buy in.
We've offered to even pay for training for counselors and were rejected on more than a few occasions. Getting trained however is easy.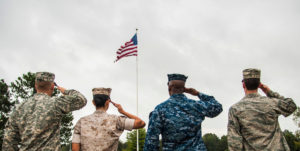 22Zero is currently putting together a Founding Member Program to raise funds to hire an Executive Director. Currently I, Dan Jarvis occupy this position and I take no salary. We are now at a point that we need to bring in a salaried staff member on to assist and then take over the Executive Director position. My strengths are not administrative. As an infantry squad leader give me an objective and I'll handle it. But my motto of, "Ready, fire, aim." doesn't cut it for what we need to grow. My passion is to be out front sharing the story and connecting with the veterans. I am finding myself travelling more and more to bring 22Zero to the rest of the country. Currently we are bringing chapters to Ohio, Massachusetts, Virginia, Tennessee, West Virginia and Kentucky. We have a lot of growth necessary to successfully move forward. Our founding Member program needs about 50 members willing to contribute between $2,000 to $5,000 per year with the specific purpose of funding the administrative side of what we are doing. These are the functions that will ensure compliance with state and federal laws pertaining to soliciting funds, keeping current accounting, case management, we cannot have anyone fall through the cracks. LIVES depend on this one. Let's just say there's a lot of work and I'm already putting in 60 hours plus per week. Please consider supporting our Founding Member Program if you are able. If not, that's totally ok all the support you have already given has made huge impacts and those impacts will continue into the future. The lives already changed will have a ripple effect in their communities and our country.
One last story of success. We conducted a training in Winter Haven, FL that finished March 1, 2019. We fully sponsored one counselor and half sponsored the other two local counselors who share our vision. Between the three they worked with 53 people with diagnosed PTSD. The 53 people no longer qualify for a diagnosis of PTSD. 19 veterans, 10 firs responders and 24 regular folks. Our investment in their training $3,000. The 19 Veterans and 10 first responders' cost to eliminate PTSD diagnosis, $157.89 each. If you add the civilians it comes down to $56.60 each. As they continue to treat people that number will get lower and lower. No medications required!
Happy New Year everyone! 
2020 will be simply amazing
This is the first group of peer coaches for 22Zero. The two tall gentlemen on the back row are the only two licensed mental health counselors. Everyone else is working with a licensing exemption under the nonprofit in Florida, Tennessee, Kentucky, West Virginia and Massachusetts. All here are veterans or current or former first responders. Peer coaches charge zero to the hero!!!!!!!!! 
From left to right: 
Front row: Barry Roberts, Jen Harris, Dan Jarvis, Charles Stansbury, Dave Kassander and Dan Starr (USAF-active) 
Second row: Nick Davis, Brent Dudash, Scott Hendrick (USAF-active), Jeanna Stansbury 
Third row: Craig Pilotte (LHMH) and Norman Bissell (LMHC) 
These folks will only be the beginning of changing the narrative.