Healing the Heroes of 9-11
The Way Forward
Chief of Police Charles Broadway
The First Responders of 9-11
Michael Gier
Award Winning Director/Producer
Read Michael's Bio
Michael Gier is an award-winning director/producer, but he got his start as an entertainer starring in Broadway shows all over the country and works as a TV/Film actor. In 2009 he created Gier Productions and since that time has directed/produced hundreds of projects. His passion is to produce films that change lives and he is proud to be working with 22Zero to create Healing the Heroes of 9-11; a film that will save lives. Michael's last award-winning documentary film, Wounded Heroes, was released in March 2021.
Read Bill's Bio
Bill Hayes is a 25-year member of Fire Department of New York City (FDNY) and was retired in 2014. Bill worked on 9-11-2001 and lost many friends that day.  Bill struggled with PTSD for many years, however after the Documentary film he went through TRP/EMP and no longer has PTSD symptoms. Bill also served as a member of the New York Air National Guard and has deployed to Afghanistan in combat operations fighting the Global War on Terror.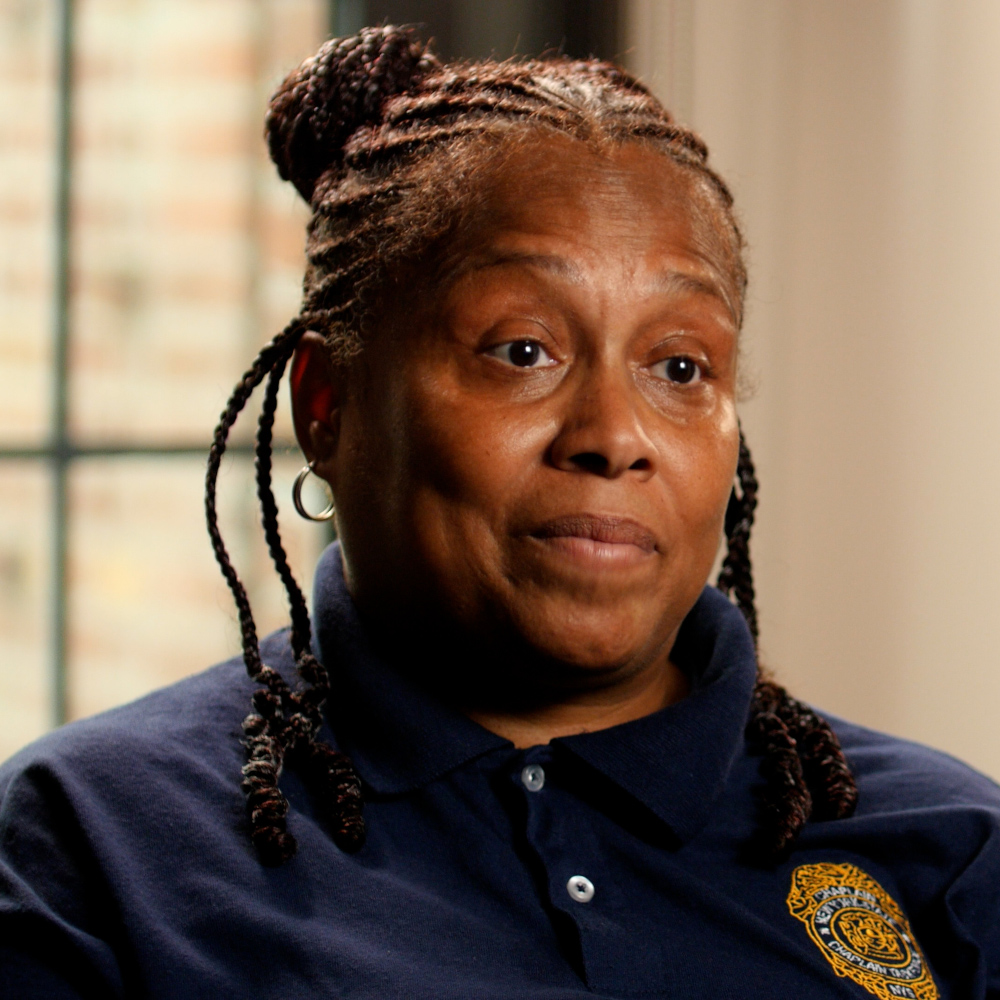 Kim Osorio 
Chaplain-first day 9-11-2001
Read Kim's Bio
Chaplain Kim Osorio had her first day as a chaplain as she was baptized by fire on 9-11-2001.  It defined her career and she even deployed to the Surfside collapse in Miami, Florida.  Kim talks a lot about compassion fatigue and how it affected her.  She scored high enough for a diagnosis of PTSD, however, after the recording of the Documentary she went through TRP/EMP and no longer exhibits symptoms of PTSD.  Kim is going to come on board with 22Zero as a Chaplain for our veteran and first responder communities.
Bonnie Giebfried
EMT buried alive twice
Read Bonnie's Bio
Bonnie Giebfried worked as a contract EMT for the city of NY on 9-11 by way of Flushing Hospital Medical Center, in responding to ground zero she was buried alive on two occasions that day.  Each time she was lucky to escape, however was forever changed by that day, and due to her injuries received that morning she was forced into an early retirement in 2004. Whenever she came into the city it was only for brief periods of time and was claustrophobic in the subway. Her scores were high as it related to PTSD until she was interviewed in the Documentary and guided through TRP/EMP and now no longer has symptoms of PTSD.
Read John's Bio
John Walker was a US Marine on 9-11, as he took the ferry into work on 9-11 he watched the towers collapse. Not only did he watch the towers collapse but he was on the phone with his girlfriend as they collapsed.  He heard the blood curdling scream as the towers fell with his girlfriend in the tower next to ground zero, with the phone going dead.  He thought he lost her, as he was helpless to do anything.  John scored high enough for a diagnosis of PTSD but immediately after the interview went through TRP/EMP and no longer has PTSD symptoms.  John is the CEO of an international company called  HoloSail Technologies, LLC. John no longer has any symptoms of PTSD and 22Zero was also able to help his wife.
Carlo Pacileo
Firefighter/Paramedic at the Pentagon
Read Carlo's Bio
Carlo Pacileo was at the gym from 9-11 in the DC area as he and his partner were scheduled to work a paramedic rotation.  When called to action, they arrived at the Pentagon and began pulling survivors out, preparing them for transport, and getting them to the local hospitals.  After no more casualties were alive, Carlo put on his fire gear to pull out and would enter the Pentagon and repeatedly search for survivors over the next 13 hours and days following.  Carlo went on to become a DC Police Officer for another 2 years.  Later, Carlo would work for Blackwater doing private security with some of America's most elite throughout the middle east, protecting presidents and dignitaries.  Carlo struggled with PTSD symptoms all the way up to his interview.  Then with an hour and a half of work doing the TRP/EMP, he no longer has symptoms of PTSD. 
Corporal Phillip Pollen
Clermont Police Department, FL
Read Phillip's Bio
Phillip Pollen is a Corporal with the Clermont Police Department in Clermont, FL. But also worked for Savanah-Chatham Metropolitan Police Department and Aberdeen Hose and Chemical as a firefighter/EMT.  Pollen works as a supervisor with the Mobil Crisis Response Unit/Crisis Negotiations and with Critical Incident Teams, dealing with the mental health issues with the public.  Pollen is also a member of the Critical Incident Stress Management Team and using the TRP/EMP with his peers on the job to allow them to remain healthy and free of trauma.   Phil has 10 years' experience in Law Enforcement and is a Veteran of the US Navy. 
Police Department | The official site of the City of Clermont, Florida (clermontfl.gov)
Corporal Robert Bedgood
Lake County Sheriff's Office, Florida
Read Robert's Bio
Robert Bedgood is a Corporal with the Lake County Sheriff's Office with 23 years of experience.  Robert has experience in corrections, crime scene investigations, Uniform Patrol, and criminal investigations.  Robert is commander of the Crisis Negotiations Team, the Therapy Dog Team and is a member of Critical Incident Stress Management Team.  Roberts newest assignment is School Resource where he hopes to make a huge impact with our student population.  Robert struggled with PTSD from years of service in Law Enforcement.  He went through our TRP/EMP processes and no longer has PTSD symptoms.  Robert brought 22Zero to his Agency and now 13 members are trained for peer support, Critical Incident Stress Management and Crisis Negotiations.
Brandon Barnard
Lake County Sheriffice Office, Florida
USMC Combat Veteran
Read Brandon's Bio
Brandon Barnard has 9 years with the Lake County Sheriff's Office in Corrections.  He is a supervisor on the Crisis Negotiation Team.  Brandon was also a US Marine and deployed to Afghanistan.  Brandon was on a base that was overrun by Taliban fighters and they received mass casualties.  Brandon struggled with PTSD until he went through our TRP/EMP, now he is trained to use it in peer support, and he has no more PTSD symptoms. 
Chief Charles Broadway
Clermont Chief of Police, FLorida
NYPD on 9-11-2001